Fishing Cart Buyers Guide
Just like all products are not made alike, fishing carts too are not the same. Fishing carts come in all shapes and varying range of uses. Why exactly do you require a fishing cart is the first thing to answer before you attempt buying a pier, beach, fishing cart!
Fishing carts (Also known as pier carts.) offer a protective and convenient holding place for reels, rods, combos, baits, lures, knives, igloo coolers for your snacks and beverages, and other must have fishing gear for your freshwater and saltwater fishing adventures. Look for well constructed aluminum tubing fishing carts with anti-corrosive features, and inflatable pneumatic tires for durability.
If you are the type of master angler that prepares multiple rods with different size test lines, open face reels and close faced reels… Consider choosing a large fishing cart that can store up to eight rods.
Don't forget to customize your pier cart with accessories, such as a bait bucket holder, vinyl cargo liners, cutting boards, and spare wheels.
The first thing about a fishing cart is a safe holding place for reels, rods, baits, lures, knives, and things like that. Without exception the fishing carts must be durable, most probably aluminum finished, anti-corrosive fishing cart is the way to go. Such a fishing cart is expected to serve you in your fishing endeavors for longer periods.
Cell phone died and you have decided to fish all night… Don't worry! Just add the 12 volt solar battery charger accessory to charge your phone and your marine light. Don't forget to call the wife, and let her know that you will be out all night! (We wouldn't want you in hot water, we will save that for the shrimp and crab boil!
If you are looking for Fishing Rainsuits... try Fishing Rainsuits
Click here is you're looking for Plano Tackle Boxes.
Iland Lures? Island Lures
A great resource for information on Fishing Carts, Fishing Tackle, etc. is USAAngler Fishing Forums.


Like Us On FaceBook
Surf Fishing Carts
Surf fishing carts come with standard sized inflatable 6.5" x 16" pneumatic tires.
A great choice for a surf cart on the market is the Utilacart folding surf cart. This surf cart folds for convenient storage in your trunk. When folded this surf cart measures 40″H x 30.5″W x 10″H.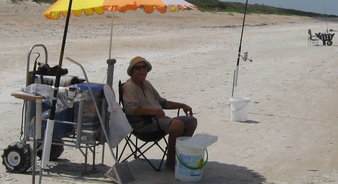 Upgrading to larger heavy duty surf cart tires that measures 9.3" x 9"
will make traveling over soft sand with hundreds of pounds of fishing gear, surf fishing bait easier.
When surf fishing in soft sand and fishing around rough terrain, upgrading your fishing cart with wheels, to larger surf cart tires will make transporting surf fishing gear, surf rods, coolers, and all essential surf fishing equipment, much easier.
Getting next to nature is a calling in all of us, and nowhere is that simpler for coastal and gulf anglers than surf fishing. You're barefoot as you stroll onto the beach with your brand new surf cart. With the surf booming close by, the wind blowing and not another soul in sight you pick out your favorite surf fishing spot. You notice the seagulls diving at the swells as you unfold your surf cart, and position your surf rods, and cooler into your surf cart.
Or a calm sunrise and you're sipping hot coffee with friends who share the same goal of catching fresh fish for dinner tonight as you all comment on your choices of surf fishing carts, while they push sand between their toes --
Picking your spot and timing it right is important, of course. If you can "read the surf," for instance -- that certainly helps. If you can't, travel up and down the coast until you locate a nice ebb and flow of the tide as you are trolling up and down the surf with your fishing cart. When you have chosen your favorite stretch of surf, and study the line of breakers off the beach as you walk by with your surf cart, set up your well organized fishing cart, and get ready for a day of fishing action.
Often fishermen set up their surf fishing carts near first and second sandbars, where a line of waves break white. Look for the "foam"; think small bubbles
that you see on your bathwater. If you don't take baths (or just won't admit it to your buddies) think of all the times you were running a bath for your little future fishing buddy. Watch for a suction in the second and third bars, where the water flows back out to sea. This water will look like it is creating a "V", and you will want to cast your surf fishing rods into this area. This current draws natural food out to the fish, and that's where you should position your surf cart, and surf rod.

Watch where the locals surf fish; if you see a shimmer of metal surf carts in the distance and a cluster of a dozen guys down the beach, clustered together with long surf rods in their sand spikes and cutting bait on their new surf cart cutting boards, then you can be sure they know what they're doing and they've picked the right spot to park their fishing carts, and cast their surf rods. Feel free to relax and take your time unpacking your surf cart while you ask these surf fishing gurus when the local tide is ripe for catching fish off the surf, what types of fish are available around this location. And how they like their fishing carts, and which fishermen have added surf cart upgrades. Early morning is good for taking your surf cart to obtain the best spot as the tides draw the food out from the surf, and because families with their kids' beach toys haven't arrived yet, so you won't have to worry about too much disturbance in the water, and around your surf cart.