Fishing Cart Buyers Guide
Just like all products are not made alike, fishing carts too are not the same. Fishing carts come in all shapes and varying range of uses. Why exactly do you require a fishing cart is the first thing to answer before you attempt buying a pier, beach, fishing cart!
Fishing carts (Also known as pier carts.) offer a protective and convenient holding place for reels, rods, combos, baits, lures, knives, igloo coolers for your snacks and beverages, and other must have fishing gear for your freshwater and saltwater fishing adventures. Look for well constructed aluminum tubing fishing carts with anti-corrosive features, and inflatable pneumatic tires for durability.
If you are the type of master angler that prepares multiple rods with different size test lines, open face reels and close faced reels… Consider choosing a large fishing cart that can store up to eight rods.
Don't forget to customize your pier cart with accessories, such as a bait bucket holder, vinyl cargo liners, cutting boards, and spare wheels.
The first thing about a fishing cart is a safe holding place for reels, rods, baits, lures, knives, and things like that. Without exception the fishing carts must be durable, most probably aluminum finished, anti-corrosive fishing cart is the way to go. Such a fishing cart is expected to serve you in your fishing endeavors for longer periods.
Cell phone died and you have decided to fish all night… Don't worry! Just add the 12 volt solar battery charger accessory to charge your phone and your marine light. Don't forget to call the wife, and let her know that you will be out all night! (We wouldn't want you in hot water, we will save that for the shrimp and crab boil!
If you are looking for Fishing Rainsuits... try Fishing Rainsuits
Click here is you're looking for Plano Tackle Boxes.
Iland Lures? Island Lures
A great resource for information on Fishing Carts, Fishing Tackle, etc. is USAAngler fishing Forums.


Like Us On FaceBook
Folding Fishing Carts
With the multitude of folding cart options available today, it seems overwhelming and such a hassle for buyers to purchase the best folding fishing cart to fit their specific folding cart needs. Here at Fishing-Carts.com we have created a comprehensive list of the best folding fishing carts available on the market, today. To make your search for folding fishing carts easier we, here at Fishing-Carts.com, have compiled all the information you need when deciding which folding fishing cart is r
ight for you.
The Out & About brand is a fully collapsible folding cart with a fold out seat. You can use this folding cart for camping, tail gaiting, and going to the beach. This folding cart measures 22"L x 18"W x 35"H, and the folded dimensions of this folding beach cart are 19"L x 5.5"W x36"H; allowing this folding fishing cart to easily fit in your in your trunk. The Out & About folding fishing cart with wheels can carry a cargo load of 250 pounds.
The Wheeleez folding fishing cart with wheels is a popular brand among beach goers, and anglers fishing off jetties. This folding fishing cart is a larger folding cart with 5cm wheels. You can also purchase a pneumatic rubber wheel upgrade kit for your folding fishing carts. This folding fishing cart can carry up to 165 lbs. of fishing gear, and up to four surf rods for your surf fishing needs. Carrying your cooler, rods, and fishing equipment across the softest of sand will not pose a problem when using this folding beach cart. After you install the wheel upgrade kit this folding cart is the perfect option for pier fishing, surf fishing, and getting all of your gear in and out of jetties ad rough areas with minimal effort.
The FoldIt Marina Fishing Cart is a folding fishing cart that is highly praised or its completely rust free folding cart frame. This folding fishing cart has a corrosion resistant frame. The FoldIt fishing cart measures 55"L x 30.25"W x 23"D when opened, and this folding fishing cart measures 41"L x 9.5"W x 22"D when folded, and only takes up 2 square feet of your trunk space or closet space.
When it comes to versatility, the Foldit folding fishing cart has no rival. This folding cart is made of high-grade, lightweight aluminum allowing you to move loads up to 330 pounds with a folding fishing cart that weighs a mere 33 pounds, making this folding fishing cart an excellent choice for boaters, beach goers, and fisherman. This folding fishing cart allows your fishing rods and gear to be evenly distributed over the axles thanks to the durable 20" pneumatic wheels providing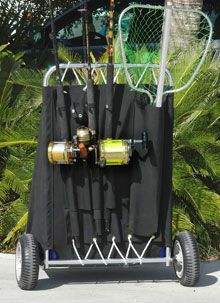 added stability while traveling over rough terrain, and around jetties while fishing.
The Foldit fishing cart has a removable front gate which gives you amazing versatility while loading or unloading your fishing and boating equipment. And when your fishing trip or day at the beach is done, just grab your hose, and rinse off your folding cart with wheels, with fresh water, to avoid any problems concerning rust or corrosion.
When you're not using the folding beach cart, you can easily retract and lock the handle for easy storage of your folding cart with wheels. Because of this folding cart's compact design, the Foldit Cart only takes up approximately 2 square ft. of storage space, allowing you to easily store it away in your shed, closet or garage. This folding cart has retractable handles that allow you to easily lock and unlock with the push of a button, allowing you to put your folding cart to rest or to play in just seconds.
The folding fishing cart offers two color options. This folding fishing cart can be ordered in either green trim with black wheels or blue trim with black wheels. As an added bonus, this folding cart with wheels comes with a 2 Year Manufacturer Warranty, at no additional cost! Once you receive your folding fishing cart you will be able to assemble it in about 5 minutes. You have many folding cart accessories that you can order to customize this folding beach cart. You can add on a trailer hitch to pull your folding fishing cart behind a 4 wheeler or even a bicycle hitch.
The Utilacart folding beach cart is made in the U.S.A. The Utilacart folding fishing cart bases its folding cart design, by combining the ease of transport with the functions of traditional fishing carts and offers a modern and economical way to move multiple bulky fishing items quickly and easily.
The folding fishing cart can be custom embroidered with anything you like on your folding beach cart and like the folding fishing cart itself; the embroidery is done by hand, especially for you!
The back of the fishing cart can store up to four fishing rods,
and has a large pocket which measures 22.5"H x 6"W x 3"D to store your beach umbrella or your long handle fishing net.
It's a folding cart that is ideal for consolidating your rods and reels, tackle box and any other fishing gear you might have…all in one place, all for the purpose of one convenient, surf fishing trip.
The Genji fishing cart weighs only 11 pounds, and can carry a cargo load up to 67 pounds. The Genji folding fishing cart has a steel tube frame with an electrodeposited anti-rust coating, and four metal, built in rod holders.
When shopping for folding fishing carts, there are many folding fishing cart manufacturers and folding fishing cart brands available. Here at Fishing-Carts.com we have compared and reviewed all the top folding fishing carts with wheels for your shopping enjoyment.