Fishing Cart Buyers Guide
Just like all products are not made alike, fishing carts too are not the same. Fishing carts come in all shapes and varying range of uses. Why exactly do you require a fishing cart is the first thing to answer before you attempt buying a pier, beach, fishing cart!
Fishing carts (Also known as pier carts.) offer a protective and convenient holding place for reels, rods, combos, baits, lures, knives, igloo coolers for your snacks and beverages, and other must have fishing gear for your freshwater and saltwater fishing adventures. Look for well constructed aluminum tubing fishing carts with anti-corrosive features, and inflatable pneumatic tires for durability.
If you are the type of master angler that prepares multiple rods with different size test lines, open face reels and close faced reels… Consider choosing a large fishing cart that can store up to eight rods.
Don't forget to customize your pier cart with accessories, such as a bait bucket holder, vinyl cargo liners, cutting boards, and spare wheels.
The first thing about a fishing cart is a safe holding place for reels, rods, baits, lures, knives, and things like that. Without exception the fishing carts must be durable, most probably aluminum finished, anti-corrosive fishing cart is the way to go. Such a fishing cart is expected to serve you in your fishing endeavors for longer periods.
Cell phone died and you have decided to fish all night… Don't worry! Just add the 12 volt solar battery charger accessory to charge your phone and your marine light. Don't forget to call the wife, and let her know that you will be out all night! (We wouldn't want you in hot water, we will save that for the shrimp and crab boil!
If you are looking for Fishing Rainsuits... try Fishing Rainsuits
Click here is you're looking for Plano Tackle Boxes.
Iland Lures? Island Lures
A great resource for information on Fishing Carts, Fishing Tackle, etc. is USAAngler Fishing Forums.


Join Us On FaceBook
Pier Fishing Carts
If you don't have a boat for salt water fishing the next best thing is pier fishing. Fishing off piers with your pier cart is an enjoyable experience. Pier carts that come with a standard set of utility tires will work just fine while pier fishing, as most piers are long wooden structures, smoothed over by decades
of sand and weather.
Investing in a pier cart is a great choice, and will allow you to be more comfortable while pier fishing. Piers range anywhere from 600 up to 1,000 feet, and running back and forth to the local, overpriced snack and tackle shop will eat into your pier fishing time! After you choose the pier cart that fits all your gear, staying on a pier all day and into the night will be extremely comfortable, and you will have all of your creature comforts and pier fishing equipment in one centralized, mobile location.
If you are planning to surf fish near your pier, we, here at Fishing-Carts.com recommend that you pick a pier cart that you have upgraded with larger pneumatic wheels, for ease of pulling your pier cart from the wooden pier through the soft sand, and/ or rocky terrain in order to surf fish.
As many pier fishermen will attest, the best pier cart on the market are those made in the U.S.A. During these times of companies moving their manufacturing to China and other countries at an unbelievable pace, be sure to contact the manufacturer for the most up-to-date information.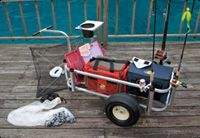 In our opinion, the Reels On Wheels Fishing Carts and the The Angler's Fish'n Mate fishing carts get our vote for the best pier carts. Both of these companies manufacture a large pier cart that can hold all of your fishing equipment and pier fishing gear in one consolidated area. You will be able to spend all weekend fishing on the pier and surf fishing nearby, on the beach without the hassle of running to and from your vehicle.
To make your pier fishing trip even easier, Anglers Fish'n Mate now offers a Power Pier Cart, that is motorized using a small garden/mower battery. Most carts come with a limited lifetime warranty from the manufacturer.
Pier fishing with your pier cart has many advantages the boaters don't have, piers are higher up off the water, so with the proper polarized glasses you can see fish from great distances, there is not an opportunity to get sea sick and you don't have to spend hundreds of dollars in gas chasing bait because the majority of the time the bait schools are right under the pier. Many piers are open 24 hours, and are well-lit allowing you to fish all day and night. When choosing a pier cart you will want to use one that can hold a large 60 quart cooler, a large tackle box, and your pier fishing equipment.
There are a few things that you will want to look for when picking the perfect pier cart. You will want to buy a quality pier cart that can carry a large cargo load. Many piers are hundreds of feet long. Having an ample supply of drinks, food, pier fishing equipment, and bait is required. With these pier cart tips in mind you can't go wrong while pier fishing.
Angler's Fisn'n Mate - 888-762-7224
What started as a few custom racks for local beach fishermen has grown to supplying quality rod racks to thousands of fishermen nationwide. Some of the premier surf-fishing teams in the country sport Angler Fish'n Mate racks on their vehicles.

All Angler Fish'n Mate products are constructed of marine-grade anodized aluminum tubing providing light weight and high strength. All hardware is marine-grade stainless steel to provide years of trouble free service.

CPI Designs / Reels on Wheels - 800-545-0202
Reels On Wheels fishing carts are made in the U.S.A. and manufactured from corrosion resistant welded aluminum. The rims on the tires and the front wheel is made from
corrosion free heavy pvc plastic with no bearings; the cutting board is made from UV resistant plastic. All the pins and screws are stainless steel.
Reels on Wheels carts are available in Mill Aluminum and Powder Coat colors of Ocean Blue, Gloss Black, or Pink.