Fishing Cart Buyers Guide
Just like all products are not made alike, fishing carts too are not the same. Fishing carts come in all shapes and varying range of uses. Why exactly do you require a fishing cart is the first thing to answer before you attempt buying a pier, beach, fishing cart!
Fishing carts (Also known as pier carts.) offer a protective and convenient holding place for reels, rods, combos, baits, lures, knives, igloo coolers for your snacks and beverages, and other must have fishing gear for your freshwater and saltwater fishing adventures. Look for well constructed aluminum tubing fishing carts with anti-corrosive features, and inflatable pneumatic tires for durability.
If you are the type of master angler that prepares multiple rods with different size test lines, open face reels and close faced reels… Consider choosing a large fishing cart that can store up to eight rods.
Don't forget to customize your pier cart with accessories, such as a bait bucket holder, vinyl cargo liners, cutting boards, and spare wheels.
The first thing about a fishing cart is a safe holding place for reels, rods, baits, lures, knives, and things like that. Without exception the fishing carts must be durable, most probably aluminum finished, anti-corrosive fishing cart is the way to go. Such a fishing cart is expected to serve you in your fishing endeavors for longer periods.
Cell phone died and you have decided to fish all night… Don't worry! Just add the 12 volt solar battery charger accessory to charge your phone and your marine light. Don't forget to call the wife, and let her know that you will be out all night! (We wouldn't want you in hot water, we will save that for the shrimp and crab boil!
If you are looking for Fishing Rainsuits... try Fishing Rainsuits
Click here is you're looking for Plano Tackle Boxes.
Iland Lures? Island Lures
A great resource for information on Fishing Carts, Fishing Tackle, etc. is USAAngler Fishing Forums.


Like Us On FaceBook
Homemade Fishing Carts
Before the luxury of buying cheap fishing carts at a discount online, it all started with one man who was tired of making multiple trips to and from his car carting all of his fishing equipment to the beach, fishing pier, or favorite fishing hole…
On one of his many endless trips carting all of his fishing supplies, fishing rods, tackle boxes, and live bait to make the most of his best fishing time on his coveted fishing trip, a light bulb came on in his head. "If only I could find a fishing cart with wheels!" he thought.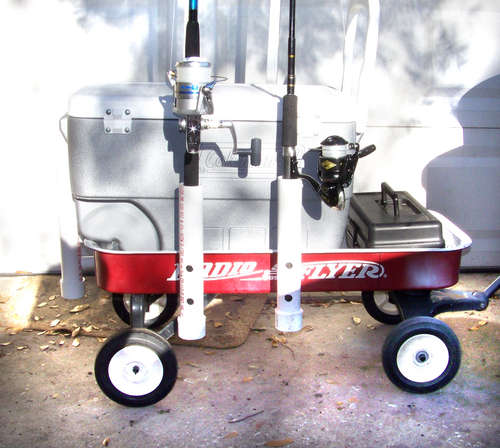 The frugal fisherman is very inventive when it comes to saving precious time fishing. Many fishermen make their own fishing carts and pier carts. The simplest, cheapest homemade fishing cart can be made with one main component. An item that brings back memories, and yet after your kids are grown can serve all of your needs on your next fishing trip. This homemade fishing cart is made using a "Radio Flyer" wagon.
To make your own pier cart start with an old, metal Radio Flyer wagon. You can make your own homemade fishing cart with a little bit of ingenuity, and for about $20.
Look over the wagon frame and see whether it has rust damage or wear and tear that needs to be repaired. Are there any holes or dents or rust that would keep it from being used as a homemade pier cart? Take some measurements and choose how tall you want the sides of your cart to be. With a marker measure where you'll need to drill holes for the bolts to attach 2 x4's that you have cut for
the walls of your cart to the body of the wagon. Once you have your personal design go to your local hardware store to pick out nuts, and bolts and PVC pipe for your homemade rod holders. You are well on your way to designing your custom homemade fishing cart.
The base is the foundation of you homemade cart and must be strong enough to hold all your gear. Aluminum, Stainless steel, PVC, and wood are the popular choices. Do not use materials that will rust if you will be surf fishing with your homemade fishing cart or if you will be saltwater fishing. Stainless steel screws and bolts are best, if your use any type other than stainless use a galvanized coating not zinc. Zip ties are fantastic for attaching rod or cup holders.
PVC pipe that does not have all the joints glued works great for customizing your homemade fishing cart from pier fishing to surf fishing, and allows you to breakdown your homemade surf cart for transportation and storage. Collapsible folding carts make storage and transportation easy.
Once you have the basics feel free to customize your homemade fishing cart by adding a cutting board for, slots in between the rod holders for fillet knives.
Look around local salvage yards for used lawnmower tires for your homemade fishing cart. These lawnmower tires allow you to haul all of your surf fishing equipment over soft sand. You may have to extend a ¾" PVC pipe over the axles of your homemade pier cart to space the wheels out for better leverage, and weight distribution of your fishing gear, tackle boxes, and coolers.
As an added bonus, your wife will love you because you are saving money, using your skills and all of the tools she has bought your for father's day gifts, and she gets to see you sweat while building it.